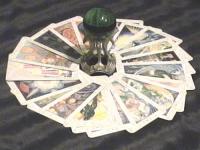 09_1292002247.jpg

43.67 KB, 500x375
Hermit - Friday, December 10th, 2010 - 9:30 AM
The true Tarot is symbolism; it speaks no other language and offers no other signs.

I aim to gather readings and related Tarot discussions in an easy to browse location. Readings requested from any one /x/phile and answered by any one reader. Or "group" readings of the kind that was attempted with TheSeventh in this tread >>207.

Other experiments, suggestions or tarot related "games", of course, would be more then welcome an, in my opinion, interresting.