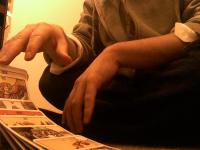 09_1292380154.jpg

246.38 KB, 1280x960
Goet Sorceror - Tuesday, December 14th, 2010 - 6:29 PM
The premise is simple: comment here if you want a Tarot reading done. Please indicate whether you want a) a general overall life reading, b) a general reading about a certain life area (eg romance, academia, career stuff, magickal path, etc), or c) a reading about a specific scenario/answer to a specific question (in which case, mention said scenario or ask said question, please).

My purpose is a tad bit more complex, though. I'm going to be testing out my ability to read the Tarot accurately, as well as reading it accurately with the three decks I'm going to be using (Rider-Waite, Thoth, and Archetype decks). If you like, you can specify which deck I'll use, but if you don't, I'll pick one meself.

If I do a reading for you, I'd greatly appreciate some feedback on how accurate you felt it was; just post another comment here in the thread.