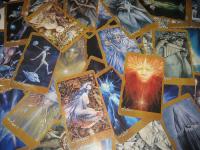 09_1292463616.jpg

190.54 KB, 500x375
Hermit - Wednesday, December 15th, 2010 - 5:40 PM
I thought it would be useful if those doing the readings were to introduces ourselves and what kind of deck/reading we use. On one hand to open discussion about specific deck and on the other, perhaps, to allow those looking for readings to pick someone whose style is compatible with what they are looking for.

Personally I have two main reading deck. The first (and my favorite) is the Brian Froud Faeries' Oracle (see image). I find it is a very versatile, very acute deck. However it does have it's quirks... it works better with "How" and "Why" questions, then with pure outcome or anything set in time. I have also issues reading it about third parties (X wants to know something about person Y).

My other deck is a Rider Waite structured deck. Better for traditional "fortune telling". It is a very upbeat deck, that I tend to read more on the positive side.