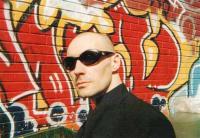 60_1297369378.jpg

60.63 KB, 494x339
Anonymous - Thursday, February 10th, 2011 - 12:22 PM
I'm hoping a number of you here know our ol' "visionary" comics writer Grant Morrison. How many of you have seen the Disinfo Lecture he gave some years back? In that lecture and in his recently released biographical documentary he talks about his alien abduction, always stating something along the lines of, "Robert Anton Wilson said Crowley has techniques for contacting aliens; I went and read the shit and did them and these techniques work! I went to Kathmandu in 1994 to be abducted aliens and I was! The technique work!" He never says shit about what the fuck he is talking about, what he did, or WHY it was Kathmandu he needed to go to. The only thing I can find about Crowley and aliens is the Amalantrah Working he did to "contact beings from other dimensions", which led to his coming into contact with a figure (his sketch of which looks similar to your typical "gray" alien) named "Lam." Is this what Grant was talking about? Did he recreate the Amalantrah Working? He never fucking says anything about it. Does anyone know what RAW says about Crowley and aliens, and in what books he says it?

tl;dr What the fuck is Grant Morrison referring to when he talks about Crowley's techniques for contacting aliens?

Also Grant Morrison is boring and unimpressive with good presentation.