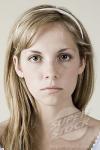 30_1337719627.jpg

66.29 KB, 233x350
Zebus Vampire - Tuesday, May 22nd, 2012 - 1:47 PM
This is an original I've been thinking about for a few days.

Item #SCP-19XX "imperfect human droid"

Object Class: Euclid

Special Containment Procedures:
SCP-19XX lives in a standard humanoid containment cell. Due to the complacent nature of SCP-19XX very few security protocols are necessary. SCP-19XX was injected with a GPS tracking device in her left thigh to speed up recovery in incident of escape or misplacement. At no time without Dr. Fleming's approval is SCP-19XX to be made aware of any machine or mechanical based SCPs, especially SCP-914. SCP-19XX does require normal caloric amounts of sustenance and is provided meals from the Site-71 cafeteria 3 times daily. Furnishings and other objects are kept to a minimum at the request of SCP-19XX as she sees them as unnecessary. Otherwise all normal humanoid SCP containment and cleaning/maintenance protocols are to be maintained.

Description:
SCP-19XX appears to be a human female or roughly 20 years of age, most of her features are unremarkable and she has been described as 'normal' or 'plain' by other female personnel. SCP-19XX in all test results is completely biologically human, other than some anomalies. SCP-19XX claims and insists that she is a machine, and was constructed rather than born.
SCP-19XX is analogous because her many abilities that are outside or very unlikely for a normal human being. SCP-19XX records and is able to recall nearly everything that she experiences to her 'memory banks' although she displays normal and unremarkable brain chemistry. SCP-19XX has also displayed a "photographic reflex", in so that she can replicate nearly any physical activity she sees to near perfection.
(To see the list of activities replicated by SCP-19XX see addendum II.)
SCP-19XX also displays a very sophisticated intelligence, such as being able to solve complex math problems almost instantaneously. Due to how obviously useful this could be in a research capacity SCP-19XX assists Dr. Fleming daily in most lab duties and limited SCP studies.
SCP however, as self-described, is imperfect. Mathematically SCP-19XX has a 1.2768% chance of failing in attempts to do nearly any action, though this percentage has been known to fluctuate. SCP-19XX displays no human emotions whatsoever, although she can emulate human behavior SCP-19XX often reiterates to personnel that she is not human, and thus cannot feel.
SCP-19XX displays no analogous physical properties. She is just as fragile as any other human being, any wounds or damage inflicted upon her heals at a steady rate (although seeming a bit faster than normal humans). SCP-19XX displays a normal maximum amount of strength and stamina for a female of her build and age. Notably SCP-19XX doesn't feel pain, and in response to injuries has been known to perform medically sound invasive self-surgery without anesthetic.
In addition, SCP-19XX has been inferred to be lying on several instances about different topics when questioned. Due to the fact SCP-19XX doesn't feel pain and is fragile as any human interrogation of any kind proves difficult. Any drugs administered to SCP-19XX are often proved ineffective, although her body chemistry is the same as any human. When questioned about this SCp-19XX explained that her white blood cells were comprised of nanties that maintain a constant state of homeostatic balance. Lab results after a blood test found them identical to human cells.
SCP-19XX approached Foundation agents in 19[ ] and requested to assist the Foundation. Obviously the agents in question were alarmed and upon non-violent capture and incarceration SCP-19XX displayed very little classified information, and only stated she "Wanted to assist".
Prolonged interaction with SCP-19XX is not memetic, but disturbs several personnel who describe her as 'cold' or 'distant'. Requests for transfer out of Dr. Fleming's research team are handled on a case-by-case basis pending his approval.

Post SCP classification Interview:

Dr. Fleming: Are you human?
SCP-19XX: I am not.
DF: How old are you?
19XX: I cannot answer that question.
DF: Why not? Are you from a different time?
19XX: I am not sure, when I try to think of an answer for that inquiry, my mind comes up blank and I become confused.
DF: What is your first memory?
19XX: When I was activated, though I cannot remember the date, it was a Tuesday. I then began to assist.
DF: Assist whom?
19XX: Anyone, I was built to assist.
DF: You were built? You are aware that you are identical to human beings.
19XX: I am a machine, as are you. I am just more advanced.
DF: How did you come to know about the Foundation?
19XX: I have always known, I was built to assist.
DF: Assist the Foundation? Were you built by a Foundation operative?
19XX: I do not know.
[shuffling of papers]
DF: How do you feel about being incarcerated?
19XX: I do not feel. Though I find the situation beneficial. I can assist.
[End recording]

SCP-19XX Addendum II:
Activities performed by SCP-19XX upon viewing them.

Media Viewed: Several Hong Kong cinema films
Action replicated: With no prior training, advanced understanding of several martial arts techniques. SCP-19XX subdued 6 security personnel in a training exercise without injury. After this SCP-19XX requested not to be asked to perform combat actions again. It was not "helpful"

Media Viewed: 7 hours of cooking shows on public cable.
Action Replicated: SCP-19XX assisted the site-71 staff in preparing a traditional gourmet meal of 5 courses. Although she claimed never to have cooked before.

Media Viewed: A recording the ballet Swan Lake
Action Replicated: SCP-19XX with no training was able to display a mastery of ballet techniques, although a female researcher commented they displayed very little emotion and SCP-19XX was far too mechanical.
-There's a shocker, Dr. Fleming

Media Viewed: 2000 Summer Olympic Archery Competition
Action Replicated: SCP-19XX claimed to have never fired a bow before, was able to consistently shoot 2" groupings over varying distances.