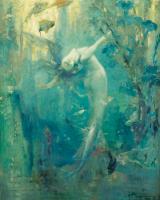 10_1341098675.jpg

1.09 MB, 1024x1280
Luinbariel - Saturday, June 30th, 2012 - 4:24 PM
Have you ever had a little feeling that you just couldn't ignore? Nothing big, nothing too important. At least not at the time. Just an urge, something that you had to follow through on the moment that you had it?

Then, when you followed through on it, it turned out to lead you towards something actually very important to you? Some kind of whim that lead to a big discovery or realization?

What do you suppose causes something like this, and what would you call it?

I just had one. I was hanging out with my friends when I saw one of my paranormal type books on the shelf. It was a book I hadn't looked at in ages, so I pulled it out to just sift through it while they were playing with their cameras.

The first section I flipped to just happened to have some information that was very pertinent to something that has been going on with me for a very long time. I was shocked that I'd never seen it before. If I hadn't picked up that book, I wouldn't have been given an entirely new avenue to research, new names, locations, etc. It's like a whole new slew of information was just tossed casually into my lap.

What on earth was it that just happened?