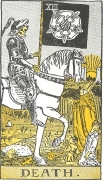 sorc-1284615551.jpg

165.23 KB, 381x669
Luinbariel Regular - Wednesday, September 15th, 2010 - 10:39 PM
Tarot decks have become ridiculously diverse in the last couple of years. Not long ago, it was hard to find anything other than the Rider-Waite (or variations thereof). Now, the tarot enthusiast has what seems like hundreds of choices in as many styles.

What does the board think of this? I have heard (and participated) in much argument over "which is better", and wondered what the general stance on this idea was here.

Do you think a specific deck is better than another? If so, why? Do you think older decks are better (such as the Rider-Waite) or that they are too restrictive?


Personally I don't care much about what deck I'm using, so long as I'm able to connect to the symbols at hand. I understand that the Rider-Waite deck is heavy in symbolism and interpretations thereof, but I don't understand the devotion to it.

That said, I'm not too fond of some new decks either, which seem to have no learning curve and appear to be marketed towards people more interested in scaring each other than learning any sort of skill. However that does not mean I think they are unable to get results; in the right hands, I think any deck can get results.

What about you folk?