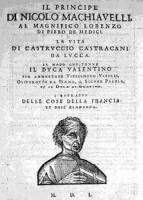 126793478362.jpg

21.23KB, 214x300
Anonymous - Saturday, March 6th, 2010 - 8:06 PM
In the movie "Hero", the Emperor of Qin is seen as a tyrant who is crushing tribes and villages across China. He personally sees it as a necessity, required to unite the country so there is no more conflict. During this, there are individuals who were born to villages that were destroyed or harmed while the Emperor was in the process of doing this and they eventually grew up to become rebels/assassins with the intention of killing the big guy for x amount of reasons (Let's face the truth here, these guys would have spent an eternity finding other things wrong with this guy on the foundation of their own suffering).

Only one of those assassins comes to enlightenment at first that if he himself, as one of a few suffering, sacrifices his vengeance for the better of an entire country, then he is pursuing the ultimate ideal of peace. This later spreads to a few others. If they flat out killed the guy, the country would have gone into disarray and regions would have started warring with each other all over again. By the time he's the clear victor, it makes sense to pursue peace and stop the killing.

If there's true injustice happening where people are sufferring...

» Comment too long. Click to view the full text.