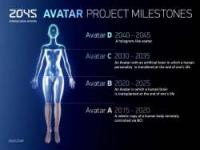 50_1343858639.jpg

6.39 KB, 250x187
Anonymous - Wednesday, August 1st, 2012 - 3:04 PM
If Dmitry Itskov's 2045 initiative plays out as planned, humans will have the option of living forever with the help of machines in only 33 years.

It may sound ridiculous, but the 31-year-old Russian mogul is dead serious about neuroscience, android robotics, and cybernetic immortality.

He has already pulled together a team of leading Russian scientists intent on creating fully functional holographic human avatars that house artificial brains which contain a person's complete consciousness - in other words, a humanoid robot.

Together, they've laid out an ambitious course of action that would see the team transplant a human brain into an artificial body (or 'avatar') in as little as seven years time.

http://www.cbc.ca/news/yourcommunity/2012/07/human-immortality-could-be-possible-by-2045-say-russian-scientists.html

So provided this doesn't get privatized so much that it's not affordable, what will you do with immortality?

Would you...

» Comment too long. Click to view the full text.